It is the dream of every mother to bear a bouncing baby after 9 months thereafter and take care of the bundle of joy through life into maturity.
But for Julia Auma, a resident in 'London' estate near Narok town, she woke up today morning to the surprise alert by her children of a 4 month old baby abandoned at her gate under unclear circumstances.
Auma, also a widow, regrets that the minor could have been abandoned due to her disability but is thankful that she is alive unlike in other circumstances where minors are discovered maimed or killed.
In spite of having reported the matter to the Narok Police Station Auma fears that it will be a challenge raising the minor among hers bearing the fact that is a casual laborer.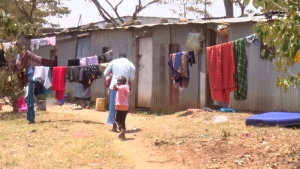 Nimo Wairimu Neighbor regretted that most ladies have abandoned religious virtues due to monetary gains without considering love affair outcomes, sentiments shared by Dan Kosen a resident in the area.
Elvin Kerubo a neighbor too regretted that Auma's income is low describing the incident as unfortunate but warned adults who engage in sexual relationships to bear for every result that comes along.
Auma will have to put up with the new bundle of joy in her single tinned house at least for now as she plans the next move with the children's department.