Changing fortunes of potato farmers in Nyandarua county after the government commissions Sh.116M seed potato multiplication and storage laboratory. The launch of Sh.116 Million Nyandarua seed potato multiplication and storage project at Oljoro'orok ATC implemented under the instruments fopr Devolution Advice and support (IDEAS) program is set to change the fortunes of potato farming in the country which have previously incurred loses due to low productivity attributed to poor access to good quality seeds. The facility uses tissue culture, hydroponics and aeronautics Technology to produce first generation certified seeds which will enable farmers to have high quality of potato varieties, cold storage facility, increased income and enhanced capacity along the value chain.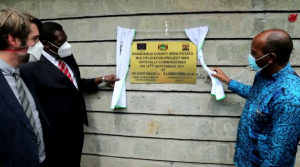 Speaking during the launch of the project, Devolution CS Eugene Wamalwa says the EU funded project aims to improve the livelihoods of small producers that will contribute to the realization of the big four agenda on food security and manufacturing. The CS said, "Once the project gets implemented successfully, we will have a great impact on potato production in Kenya that will ensure rapid production of quality seed materials."
Through the laboratory, the county was able to introduce new varieties of potato seeds to suit different growing seasons, including short-season varieties that will be in the market within 90 days of planting, and varieties that have short dormancy periods. The new varieties are also high yielding and less susceptible to potato blight and other diseases that reduce yields.
Nyandarua County Governor Francis Kimemia emphasized the importance of the Kshs. 116 million facilities as one of its kind in addressing the perennial problem of seed unavailability not only in the county but in the region. Nyandarua is considered a food basket for Kenya due to high production of potatoes, cabbages, carrots, peas and milk. A vast majority of its population are farmers (approximately 100,000 farm families), who are engaged in the production of Irish potatoes. As a way of ensuring that farmers are cushioned from low prices as a result of surplus produce, Governor Kimemia said potatoes should be included in the Strategic Food Reserve, to feed Kenyans facing starvation.
He said, "To reduce production costs and over-dependence on manual labour, the county government in collaboration with partners have introduced farm machinery for cultivation, planting, harvesting and grading operations. Although still in early stages, the mechanized system will enable farmers to harvest potatoes in record time, minimizing the costs and losses associated with long, manual harvesting periods. Further, the county government is collaborating with partners to put up cold storage facilities to minimize post-harvest losses."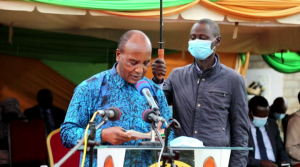 Also present was Principal Secretary State Department for Devolution Julius Korir, County European Union Head of Section, Governance and Macroeconomics Alexandre Baron, Commissioner Benson Leparmorijo, County Executive Committee Members and Members of County Assembly.