Stakeholders in the construction sector have collaborated to bring changes in building and construction to address the challenges of global warming. The collaboration is purposely to come up with ways and knowledge to reduce greenhouse gases through the use of recycled and more environmentally friendly building materials. Under the programme, Global Challenges Research Fund Networking Workshop, a programme funded by Academy of medical sciences from the United Kingdom.
Speaking in Embu university Professor Jackson Wachira Muthangia from the University which is one of the big stakeholders in the programme, said many people spent a large chunk of lives in building and there is a lot of emission of greenhouse gases which has a big impact on climate change. "You recognize that we live almost over 80 percent of our life. We must always be in a house or home. We must ask ourselves many questions about it with respect to its contribution to climate change,' 'said Prof. Wachira.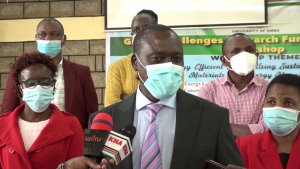 He said the programme will be looking at material efficiencies in homes in order to reduce the impacts brought by those materials during its extraction or production. "The home becomes very important with respect to what the material has been made from, whether the materials are big contributors to global warming, whether the materials are sustainable or whether the material can help in management of energy. These are the areas we are looking at," Noted Prof. Wachira. Further the programme will be looking at design of the houses and this will be looking at how a house can be constructed without necessarily requiring external energy to ensure those living in the house are comfortable.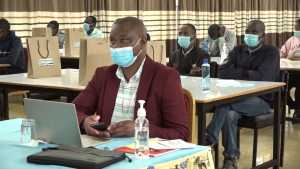 There will also be an aspect of energy management in the houses to control emission of green gases from houses. "When you are talking about ACs to cool the house or heater to heat the house when you work backwards there is a lot of contribution to global warming or climatic change," he observed. He noted the programme is rooting for the use of materials which can be recycled and can be used in construction. The programme has drawn stakeholders from Universities, Engineers board of Kenya, Kenya Bureau of standards, industries among others. Universities will help much in research.
Eng. Grace Onyango from Engineers Board of Kenya said the collaboration will facilitated sensitization of engineers on how to use local materials and designing of the houses noting that the collaboration between Universities and industries will feed into curriculum so that students who are going through engineering they can graduate with industry in mind. She also noted with the knowledge and innovation for the use of local materials which can be recycled it will reduce cost of material being imported. Onesmas Mulwa from Savannah Cement said Cement being the second most used material on earth after water but noted many people do not have decent homes.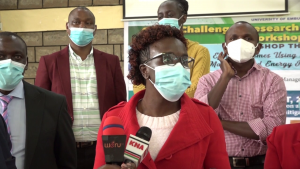 He said the research from academia can facilitate production of local cement which will lower the negative impacts brought by production of material using klinger which is a big threat to climate. Professor Wachira said as University's research on the reduction of green gases through construction, they will entrench the outcomes within the learning institutions. They will also sensitize the professionals on the outcome of the research so that it can get practiced at the grass root level.