Young persons from Nyaribari Chache constituency have sought assistance from area leaders over  accessibility to  credit for investment in income generating activities. The girl-child youths who were  university students and graduates admitted they were ignorant on how they could access  huge allocations of public funds from the two levels of government for their economic empowerment. Speaking in Keumbu  township the youths further claimed they had no idea on the money's expenditure  since their problems remained unresolved. They cited, lack of bursaries, sanitary towels, social infrastructure  and job opportunities are some of the challenges the elected leaders  had perennially ignored to address in the constituency. 
Betty Gesicho, Kerubo Nyakundi, Linda Moraa and Eunice Kerubo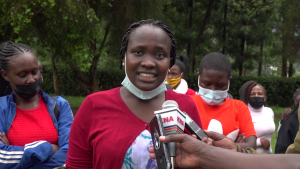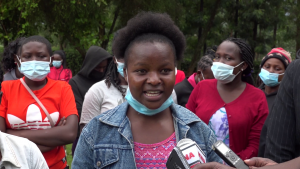 challenged  development conscious  people from the area to  offer  themselves for elective positions so that they could provide the much needed leadership. A former banker James Kenani  who met the youths expressed concern that they were in the dark on utilization  of public funds and  how to benefit from devolved kitties. Kenani urged managers of the kitties and Non-Governmental Organizations  to design simple regulations on access to the credit facilities. If the requirements were flexible, the youths will obtain the money and use it in wealth creation, thus availing   opportunities  for self employment. he added.