Aspiring politicians in Tana River county have been challenged to the ambassadors of peace in their campaigns.
According to Nuh Nasir Abdi, an aspirant for the governorship position, the county has a history of clan clashes whenever an election approaches and so to stop such a urgly things from recurring, all politicians must take the lead role on preaching peace as they go ahead with their campaigns.
Speaking in Meti-the shrine of the Wardhei community after being endorsed to be the sole candidate who will fly the community's flag for the position of the governor, Abdi said past elections have been characterized by clan clashes pitting communities where lives have been lost and hundreds displaced.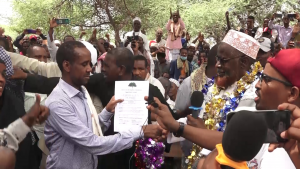 In 2012,a few months to election, clan clashes erupted between the pokomo's and the Orma in Tana delta, more than 200 people died in the clashes while close to 40 thousand were displaced.
It all started as a conflict between pastoralists and farmers but slowly took a political angle. the end result was retaliatory attacks. however in 2017 there were no clashes.
"Our great county of Tana river has gone through several seasons both good and bad worse ones. we have seen it all. we have lost thousands of people through inter clan clashes which unfortunately tend to re-cur each and every time there is an election. going forward we hope and pray this doesn't happen again ever," he said.
"Every time we approach an election we always have individuals who will never want to see our people peacefully co-exista and all they is to trigger clan clashes because at the back of their minds, without doing this they wont get the seats they want," said Nasir.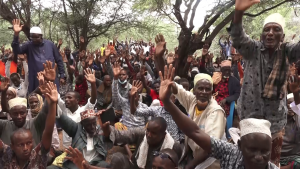 Abdi urged wananchi to be on the look out for 'war mongers and inciters' noting that such people who thrive on dividing the electorates and causing bloodshed cannot be trusted with leadership positions.
Nasir a former a one time Bura MP and speaker of the county assembly between 2013-2017 further challenged the electorates to thoroughly scrutinize the aspirants and their manifestos before making a wise choice.
The community's king Abdi Hassan who announced Abdi as winner during the ceremony held at the comunty's shirne in Merti, Bura constiturncy said the process was a transparent, free and fair.
He thanked the candidates for their cooperation throughout the exercise saying that the community's unity was paramount.
"Abdi now becomes the first among equals because all the other candidates were good and could have as well been picked. We now start the journey of uniting our community with eyes fixed on getting the seat," Hassan said.
"I accept this endorsement with a full and grateful heart with only one obligation; that is providing good leadership to our community and to the people of Tana river," said Abdi
He went on : "I know the task ahead is not a walk in the park, it requires a lot of commitment and dedication, not just from me but from every single member of our community,".
He promised to do all that it takes to give people that dream leadership that they yearn for.
"I have the competence and courage to make development and prosperity a reality. Without doubt, I take this as a challenge but also as an opportunity to start a new line of servant leadership," he said.