A school head teacher has called upon education stakeholders to embrace the new Competence Based Curriculum (CBC) as it has numerous advantages over the old 8-4-4 system.
Mr. Gidraf Ikenye,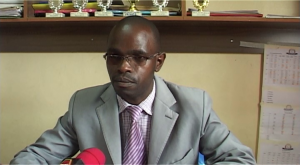 the head teacher of Blessed Narok School said the new system has given a chance to all young learners to explore their talents because it is aimed at nurturing all learners' potential.
This means, he said, that even a student who would become useless in society because they did not pass their exams, has an opportunity to become someone great.
He said if the school set up has a good performing culture, even the new students admitted in the school under the new system will continue with the good behavior and performance.
On school unrest, the school head called on the society to take a collective responsibility of nurturing the young children and installing morals in them.
He asked the parents not to point fingers at the teachers because the children come from a family set-up which is the first school for a child.
He observed the increasing use of technology where children are exposed to ponography through the internet, asking all caretakers to monitor what the children were watching on their phones.
However, he noted that there are so many beneficial programmes over the internet that can help the school going children to build their talents.