Siaya health workers have downed their tools over delayed salary payments and failed remittance of statutory deductions by the county government of Siaya for four months. Speaking at the Siaya Referral Hospital, the KMPDU Nyanza region chairman Dr. Onyango Ndong'a said it is the end of the road for the health care workers in Siaya unless the county government reviewed the terms and mode of operation. "The cow has reached the tether end and we can't continue this way. We have to down our tools today by midnight. When the rights of health care workers are violated, even the patients suffer." Lamented Dr Ndong'a.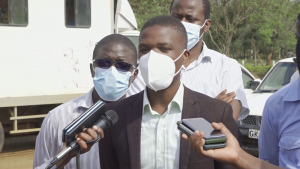 He added, "We can't work for 90 days without any pay and we even can't pay for the services that we offer. We are listed on the Credit Reference Bureau, we are unable to pay school fees and even meet our bills. This is gross, we can't continue this way." The Siaya county branch secretary of the Kenya National Union of Nurses, Sylvester Ng'anda blamed the county government over what is ailing the health services. "It is very sad, we have called on the county government for dialogue without success, we ought not to have reached this far. This is a county government that we have entrusted with two thirds of our money to pay those institutions that we owe, and instead of doing that they hold the money." Noted Ng'anda.
He also noted that the county government duped them with promotional letters back in March. "Some of us were promoted back in the month of March and to date the promotion has not been effected. We realized they stole all the money meant for our promotion." Said Ng'anda. Kenya Clinical Officers Union branch chair Collins Omondi called for speedy resolutions to the stalemate saying the health workers are struggling. "Siaya County government must wake up and be serious, take us seriously, not joke with our lives and those of our dependents'. We are joining them in their strike." He noted.