By Wasike Allan
Juma Jux is in Kenya for his The Love Album Media Tour and many things have taken centre stage even as he promotes his first album with 18 songs.
Born Juma Musa Mkambala in 1989, Juma Jux is one of the most successful musician in Tanzania with a great number of following. Jux made his musical debut in 2005 starting as a rapper and later an R&B singer who has released hit after hit.
On his Media Tour at KUTV's morning show Rise Today hosted by Labaan Shabaan, Jux addressed several issues giving prominence to his music as he went ahead and performed his new hit song Sugua that he featured Diamond Platnumz fro TZ.
Our fans were keen to know more about his relationship with Vanessa Mdee, the Tanzanian songbird. The two dated till six months ago when they parted ways.
Vanessa Mdee is said to be dating American based Nigerian singer cum actor, Rotimi while Jux now has a new girlfriend from Thailand called Nayika.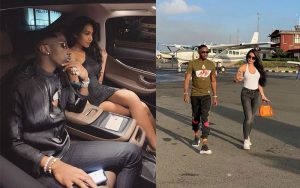 Speaking on Rise Today, Jux confirmed that the peng Nayika is not a Chinese as many thought but a cute lady from Thailand.
My new girlfriend is from Thailand, si mchina.
There you have it, now we wait for Sugua's video.
Here's the interview:
https://www.youtube.com/watch?v=_8w-Uxz1ZRQ