A 46 year old man of Kirigu-ini village of Githunguri area in Kagundu-ini ward of Kandara constituency is appealing well wishers, government and Non-government organizations to donate him with artificial leg. Stephen Ndichu Chege narrated how he lost his right leg after been amputated following un healing wound that suffered him for 26 years. During that period Ndichu says his wife left him because she wouldn't bear the pain her husband was undergoing and it was an uphill task for her in the process of nursing the decaying wound that would produce mucus uncontrollably.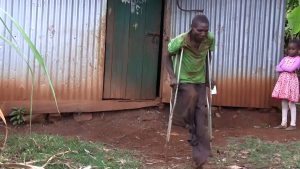 Chege says he was lucky to have been treated by Spain mission doctors who toured the Maragua sub-county hospital two years ago and amputated his leg right from the kneel. According to him, this didn't stop him from doing manual jobs to earn a living as he has been hired by people in his village to dig their shambas, harvest maize and he does this while seated.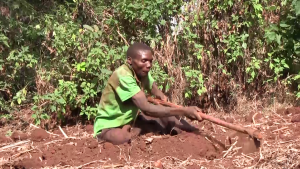 The residents of the area confirm this man doing commendable manual jobs to them calling upon the people of good help him raise money to purchase an artificial leg to aid him improve his life. He laments requiring sh100,000 to be able to purchase the artificial leg welcoming any help both in kind or material via 0791 330 654 and his Name reads STEPHEN NDICHU CHEGE.