A section of teachers from Siaya are demanding the implementation of a policy barring head teachers from joining trade unions, through an organization known as Bunge la Walimu. The teachers mainly drawn from Gem sub county lamented that though the Teachers Service Commission has issued guidelines barring institution managers from becoming members or holding positions in the trade unions, the same was not being respected in Siaya. Led by Bunge la walimu chairman, Anthony Owuor, the teachers said they shall seek legal redress should KNUT and the TSC fail to have the head teachers relinquish the positions they held in the union.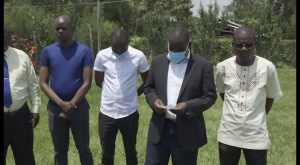 Owuor, who was flanked by among others, Elijah Opany and Eric Owuor Olwanda said KNUT should be left to the classroom teachers, adding that even deputy head teachers and senior teachers are barred from becoming members of the trade unions. But contacted for comment, KNUT national executive council member who is also the Siaya branch executive secretary, Alex Dunga dismissed the demands by Bunge la Walimu members, adding that they were made out of ignorance.
Dunga, who talked to the media in Siaya town said whereas the union and the employer were reviewing the recognition agreement to have it conform to the realities of the labour market and have agreed on the need to have head teachers out of union politics, the same was supposed to take effect in 2026. The KNUT branch executive secretary said several amendments have been effected in the agreement, among them the amalgamation of the over 110 branches to only 47. Dunga called on Owuor and his team to walk into any KNUT office and seek clarification into the matter instead of exposing their ignorance over the matter. He dismissed the proponents of the policy implementation as non KNUT members who would not participate in the union elections even if the elections were held today.