Prepared By Labaan Shabaan 
It has always been a myth that making it as female artiste in the  Kenyan Entertainment Industry is not easy but nobody has ever taken time to substantiate this.
Our journalist Labaan Shabaan  interviewed Beryl Owano, a sprouting female artiste in the industry and this is what he came up with.
Kenyan Songbird Beryl Opens Up
''I was a PR manager at a company; I quit to concentrate on music. Kwa nini passion yangu ambayo nimeacha kila kitu ili nifanye inanistress sisongi, kila mtu nampigia simu anisaidie anataka nifanye kitu, inanifanya niwe stupid, nifikirie vitu vingi, kuishi Nairobi ni ngumu….me and you haikufanya vizuri….my friends wakaniacha apart from my producer and musician Afigy.''
KENYAN MUSICIAN BERYL OWANO WAS DEPRESSED FOR TWO MONTHS, SHE SPEAKS OUT
After hitting ground and topping charts with hit releases back to back, Kenyan singer Songwriter Beryl Owano, 24,has been missing in the music scene for the last two months after suffering depression due to different challenges she has been through in the male dominated music industry.
Speaking to KUTV, the 'Take Me Slowly' featuring Matonya hit maker has confessed that Deejays, Music Promoters and Presenters made sexual advances to play her songs. Through her latest release 'Sinyamazi.' Beryl has enumerated the troubles that befell her the moment she quit practicing her Television Production Profession to concentrate on music.
Through the Three minute 57 seconds song produced by Boy David of Big Dreams, Beryl lays bare that all is not well in her life now.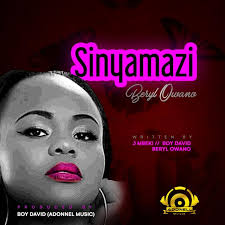 Rising faster and affirming her presence in the music industry with three hot singles under her belt Beryl released Me & You ,her 5th music video directed by Trey Juelz and produced by Jacky B of TamuSana Records, the song that preceded 'Sinyamazi', did not do quite well like 'Slowly' Beryl admits that this has taken a toll on her to the extent that she had almost considered quitting the music industry. Friends abandoned her. She felt she was left alone to suffer during this hard time. This actually thrust her into seclusion.
MUSIC CARTELS ARE MAKING FEMALE ARTISTES SEX PESTS
Upon releasing her bombshell tract 'Sinyamazi' this is the message from Beryl that has made rounds on all social media platforms. Beryl says,
"Singing has always been my passion ever since I was little but I just never knew that making it in the mainstream would require more than just my talent and passion. When I released my first song, I started getting attention especially from the male media personalities, DJ's and promoters. I just didn't know that this could turn into a game of begging or bribing using money and my body just to get my music being played. We also have so many groupies that discourage female artists from the industry and since am one of the victims, I've decided to speak about it. This actually got me depressed some time back and when producer Boy David called me for a project, I decided that this is what I wanted to get out there. With the help of J Mbeki and Boy David, I was able to relay my message. I hope this will raise some.''
Berly Owano : ….mwanamke bado ni chombo ambacho kinatumika sana.
Through a telephone interview with Entertainment Guru Labaan Shabaan Beryl pities female artistes
,….tunakuliwa sana. Katika wimbo wangu nimegusia ngono, watu kulala na female artistes. ….mwanamke bado ni chombo ambacho kinatumika sana. Mtu atakudanganya anakupenda kumbe anakutumia tu.
"Nilikuwa naogopa sana kuimba hii ngoma kwa sababu maybe presenters hawatacheza ngoma zangu baada ya ku-release. Nia yangu ni kukomboa female artistes wengine….the music cartels can go to the extent of using other artistes to bring you down…I don't know what is going to happen but I believe that am serving a big God. "
Check out Beryl's new release 'Sinyamazi.' https://www.youtube.com/watch?v=0zQzT55cixg
The Songstress admits that she dated a popular figure in the music industry who masqueraded as a true lover only for Beryl to realize that she was hoodwinked. She says the man only wanted to use and dump her in  2017.
''We are having issues with my boyfriend now. My current boyfriend does not work in the music industry…..Hata saa hii nikimpigia I don't whether am single or not…''
…..my boyfriend anasumbuka sana about me kuwa msanii. Akinitafuta at times namwambia niko studio. Si rahisi kudate mtu yuko kwa limelight.
''……I have bribed a media personality to play my song 'nabaki' of which it was not played.''
Check out Beryl's 'Nabaki'  https://www.youtube.com/watch?v=dB3QcCO4PK0