By Jilo Dida
Nicholas Mugo Mwangi, a Kenyan DJ popularly known as 'Moh Spice' was arrested last night at Space Lounge, Ngong Road. He was arrested for public display of a firearm. Police confiscated a Steyr Pistol and 174 rounds of ammunition from him.
The arrest was carried out by DCI's Special Crimes Prevention unit. His arrest follows public complaints after  photos of him surfaced online with a pistol tucked in his trouser during an event at K1 Clubhouse.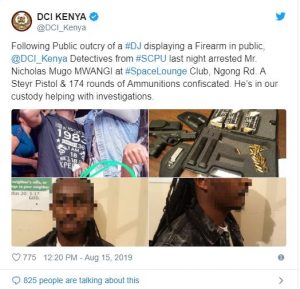 The Firearms Act stipulates that a firearms owner is in charge of keeping the weapon in safe custody so that it is not lost or stolen, "and is not at any time available to any person not lawfully entitled to possess the same".
Section 18 of the Act states: "Any person who fails to comply with any of the provisions of this section shall be guilty of an offence and liable to imprisonment for a term not exceeding one year or to a fine not exceeding Ksh 10,000 or to both".