Sky blue is not a favorite color to many Manchester United fans following a 2-1 defeat at home by Manchester City.
Manchester City cancelled the home ground unbeaten record 100 days after breaking the same record.
David Silva scored the first goal for Manchester City after poor defending of a corner kick by Manchester United in the 43rd minuted.
Marcus Rashford managed to equalize for Manchester United in the additional time of the first half but a poor clearance from Romelu Lukaku gifted Otamendi a winner in the second half.
After the second goal, Pep Guardiola's men sunk deeper defensively following a tactical substitution of bringing in Mangala for Gabriel Jesus.
The equalizing goal for Manchester United was way too elusive and when Romelu Lukaku had a one on one chance after a good combiantion of Mata, Ibrahimovic and Antony Martial: he bottled it.
Manchester United fans could not hide their rage, they took to social media hurling all sorts of insults at the Red Devil's striker.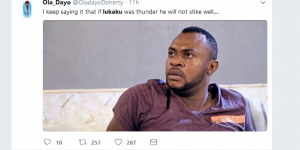 Was it a penalty?
Manchester United's Ander Herrera was brought down in the Manchester City 18 box but instead of a penalty he was given a yellow card for simulation.
Red Devil's Manager Jose Mourinho thought that was a clear penalty. Here is what he said.
"Clear penalty. I'm sorry for us, I'm sorry for Michael [Oliver, the referee]; I think he had a good performance but it's a clear penalty. The referee made a mistake, which can happen. Last season we had a similar situation here against Man City – City were winning 2-1 and [the referee] Mr [Mark] Clattenburg didn't see the penalty, [Claudio] Bravo on [Wayne] Rooney, and this one also. It's a clear penalty and I feel sorry for Mr Oliver because he had a good performance. He's a human being and tried his best; he was very committed to having a good match, which I think he had. He made one mistake, which was a crucial mistake for the result of the match. You can speak about anything you want. You can bring any football theory, you can bring the stats, the ball possession, you can bring everything you want, but like last season it is a huge penalty in the crucual moment of the game. But I also have to say I feel sorry for Michael Oliver because he had a good game, a very good game. The assistants the same. I think [Jon] Moss [the fourth official] came with the intention to make the perfect work which they almost did."
The title race becomes more and more obvious with Manchester City opening their lead to 11 points following the win over Manchester United.
This is all for Monday Football today, have a good day.