More than one thousand frontline workers in the Tourism and Hospitality industry have so far been vaccinated in the first week of the ongoing drive to protect personnel in the sector. The PS for Tourism Safina Kwekwe Tsungu termed the exercise as a major step towards instilling confidence about hospitality services among both domestic and international clients.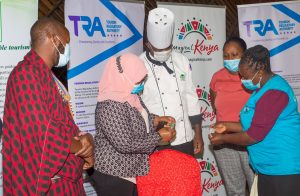 "This is to assure both our domestic and local traveller that we are ready for them and we are taking all measures to ensure that the destination is safe for them", reassures the PS who made the remarks during the inspection of the ongoing exercise at KICC.
The exercise, which was launched by Tourism and Wildlife CS, Najib Balala targets 5000 frontline workers in the first phase targeting Nairobi County. The drive is in partnership with the Nairobi Metropolitan Services, Kenya Association of Hotel Keepers and Caterers (KAHC), Kenya Association of Tour Operators (KATO), Pubs and Restaurants Association (PERAK), among other stakeholders in the sector.
"By end of the week we will have had about 2,000 hospitality workers vaccinated. These workers are from tourism umbrella associations which have been helpful on the crucial exercise. Every day before we retire, we get a list of members coming on the next day to avoid confusion and crowds at the site. Today we will be attending to members from the tour guide association and the hotels" She said.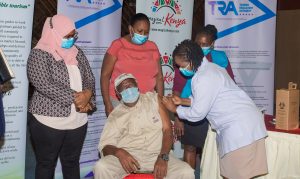 The PS added that the Ministry will be scaling up the exercise to other counties in the second phase of the vaccination exercise as way of reaching out to other hospitality facilities away from Nairobi.
"Tourism as a trade is a person-to-person sector and there are workers in the sector who by the nature of their work are exposed because they interact with clients physically and this is the reason, we made a case for the industry to be considered as frontline workers, as such we have had to  focus on workers in restaurants, entertainment and the tour guides because these are people who interact personally with their clients" added PS Tsungu
Tourism destinations are banking on vaccination to drive confidence for travellers across the world. The tourism industry has been one of the most hit industries across the globe with travel restrictions imposed by governments to curb the spread of the virus.
East Africa Tour Guide association group CEO Kennedy Kaunda who led about 200 tour guides for the vaccination exercise said that the programme would help to send a message that Kenya was ready to receive both domestic and International Tourists.
"This is a timely exercise because vaccination of frontline workers means that even the visitors will also be confident of their safety while in Kenya, tour guides interact with visitors from entry to exit, he said.
Tour Driver Guides Association (KTDGA) brings together tour guides operating in the country with an aim of empowering and building capacity to a professional status.