Police in Naivasha have nabbed second generation liquor and brewing materials worth millions of shillings following a raid on two factories that were involved in illegal production.During the raid in Kayole estate and Mai Mahiu trading center, methanol worth thousands of shillings was nabbed and fake KRA stickers recovered.
Their workers were however not lucky as they were arrested and the packed liquor and brewing equipment carted to Naivasha police station.This came as the officers launched a manhunt for two prominent Naivasha businessmen over the illicit production of the illicit brews.According to Naivasha OCPD Samuel Waweru, they had arrested five suspects in the Kayole breweries which had been in operation for the last couple of months.
He said that following a tip-off from members of the public they raided the breweries and recovered fake stickers, packaging materials and the methanol packed in jerricans."The liquor incidentally has been packed in cartons belonging to a cooking oil company and it was ready and destined for the market," he said.Waweru called on area residents to be wary of the liquor that they were taking, noting that some of it was dangerous to their health."A couple of weeks back some families lost their relatives in Nakuru to such kind of liquor and we shall not allow this trade in Naivasha," he said.
The area CID boss Adan Hassan said that the owners of the two factories did not have any legal documents as they were operating illegally.He added that the crackdown targeting illicit and second generation brews could continue across the sub-county until the menace was done away with."The workers do not have any health certificates and the manner in which the brew is being produced raises many health questions," he said.This came barely a month after ten people died in Kabatini area in Bahati Nakuru after partaking illicit liquor laced with poisonous substance.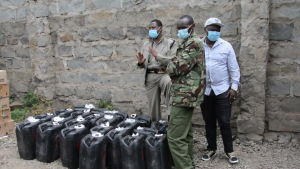 Rift Valley Commissioner George Natembeya moved in and suspended several senior police and administration officers following the death