Kenya's real estate recouping after disastrous period of revenue declines- investors. The country's real estate sector has started recouping after a disastrous period caused by Covid-19 pandemic and its negative effects. Despite the sector having registered reduced profits since the onset of the virus in the country in March last year up to May this year, the property industry's recovery season is in progress with developers now expressing optimism of reclamation. According to Ken Guchu, the proprietor for Dhamani Real Estate, a company he started when the pandemic struck the world, the work-from-home and health directives in place; social distancing, travel restrictions, curfews, and county lock downs had all affected the different property sectors resulting in slow uptake of assets.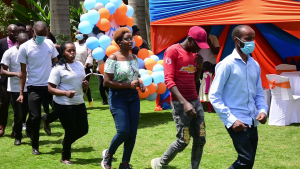 He said that the tough economic environment in the country compelled Kenyans to make hard decisions of stalling purchase of property in fear that the situation could deteriorate. Since January this year, Guchu however said Kenyans have mastered the art of living in the new normal re-embracing the need to invest in land property for future prospects and for construction of houses. Speaking while issuing title deeds to investors at their inaugural project in Juja, Kiambu County, Guchu noted that the remaining months of 2021 will be a re-defining period for Kenya's real estate market. He revealed that although the purchasing power is growing at a gradual level, Kenyans have continuously embraced the need to invest in affordable property away from major towns.
He said that devolution, establishment of government institutions, construction of key infrastructure such as roads, water and electricity connectivity at the grassroots has increased demand for property upcountry. Guchu noted that unlike before, youths and women have surpassed the culture of property businesses with youngsters from the age of 20 years now owning land in various parts of the country. The young developer who maintained the need for Kenyans to continue investing in real estate, Covid-19 notwithstanding further urged the government to continue bettering the business environment in the country for faster economic recovery. His sentiments were echoed by Consolata Muthoni Mburu who urged women to ignore traditional fallacies on property ownership and venture in the industry for a bright future.