While a period is a natural part of being a woman, for a long time, periods have been a source of stigma, shame, worry and embarrassment for women. The narrative that periods are disgusting and should be hidden is often reinforced, even before girls experience their first period.
Sanitary towel brand Kotex, has incorporated the SHE symbol into their logo in honour of women everywhere as they launched a new-look packaging. Additionally, Kotex also launched a campaign dubbed '#PeriodOrNotSheCan' to emphasize that a period should never get in the way of a Woman's progress.
The campaign, which leverages on Kotex putting women at the heart of their business for the past 100 years, remains one of the most significant for Kimberly Clark, owners of the Kotex brand globally.
Speaking at an event to formally launch the new-look pack designs, Christopher Waithaka, Senior Brand Manager, Feminine Care Category – West, East & Central Africa said, "We incorporated the "She" symbol into the Kotex logo as a reminder that women guide everything we do and as a commitment to honour her for the next 100 years."
"Through the #PeriodOrNotSheCan' campaign, Kotex seeks to drive conversation around period stigma with the intention of underscoring belief, that a period should never get in the way of any woman's progress," he added.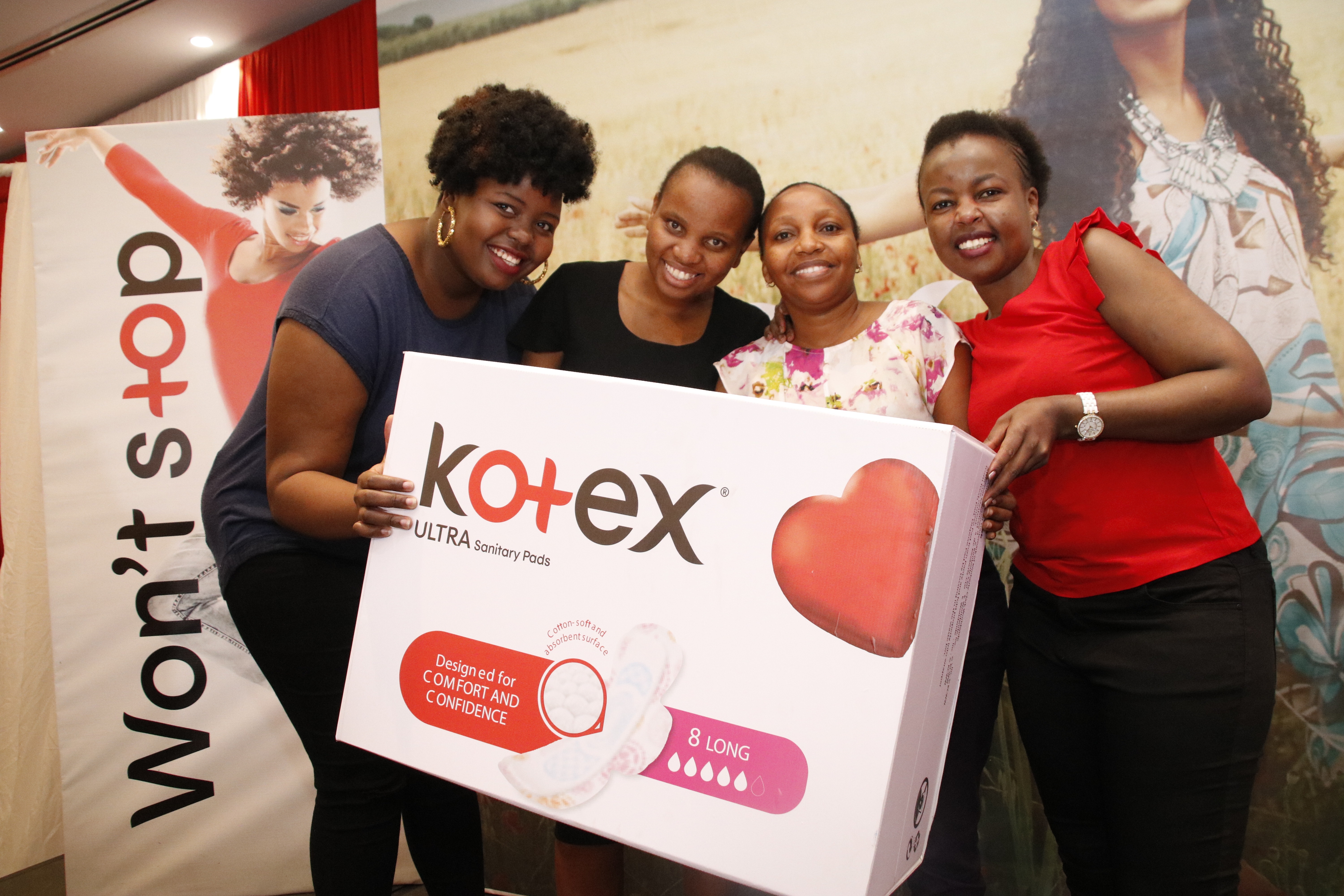 As part of the campaign, 12 women were nominated to recieve the 'she can' award at a red carpet gala ceremony.  The awards were created to cheer on women for courageously achieving unique success in their respective fields.
Among those honoured were Muthoni Ndonga, popularly known as Muthoni Drummer Queen. She is a rapper, singer and entrepreneur. Last year, she released an album called "She" –  a 12 song album that celebrates womanhood from different perspectives. She started out as an artist and later grew into a successful event organiser.
Others are Sarah Ochwada, who is the first African woman to hold an LLM in International Sports Law. She is the founding partner  of Kikao Law (a firm that specialises in Sports law, Intellectual Law and Entertainment Law) and a director at the Center of Sports Law.
Editah Hadassa, also honoured is the founder and Executive Director of Waiting Wombs Trust, an organisation that seeks to create awareness, bring together and support those struggling with childlessness and infertility.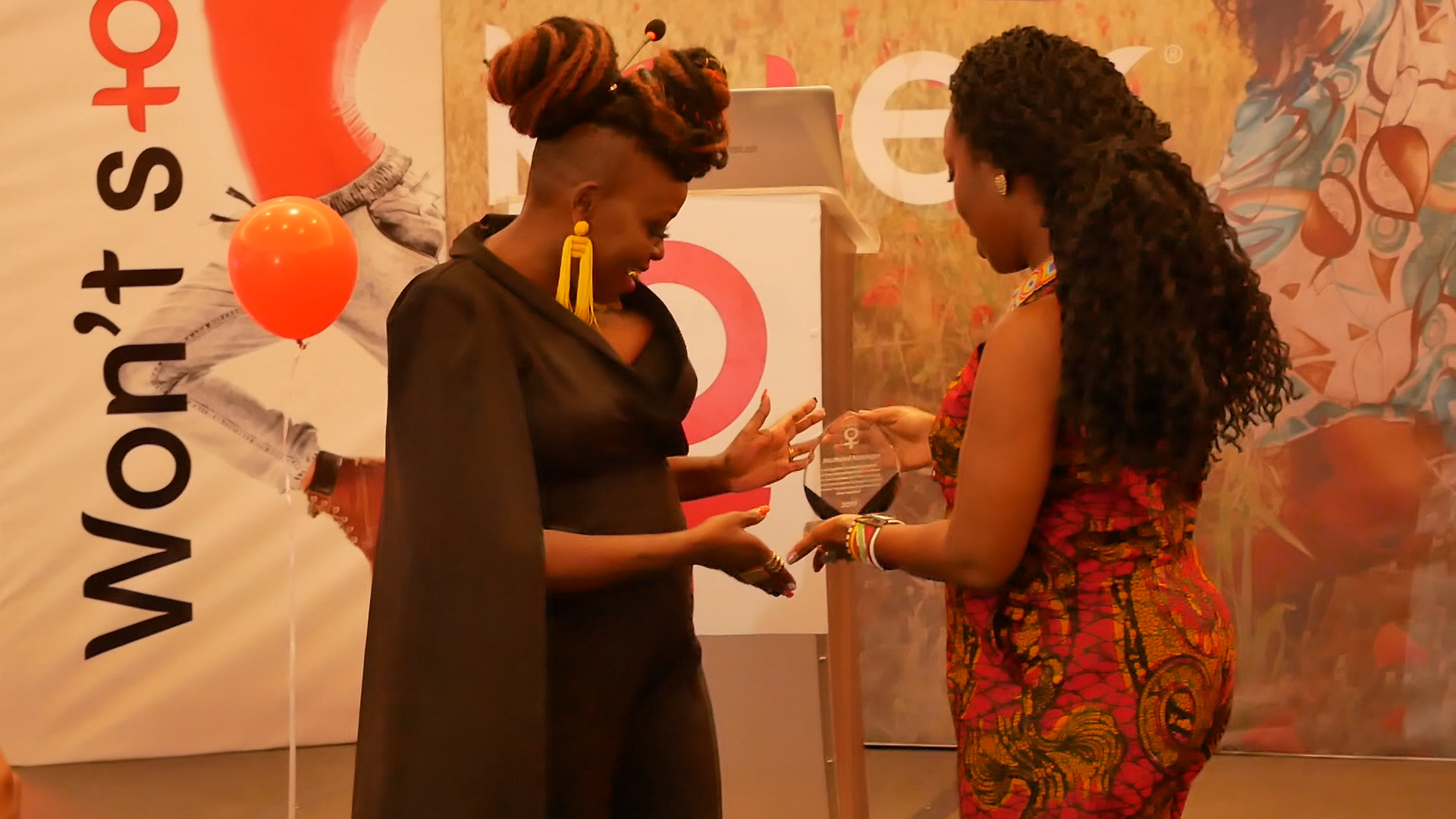 "Period stigma dictates to women what they are allowed to do and how far they can rise in education or career. Taboos and myths serve only to encumber them thus crippling their efforts to advance," explained Saiton Tameno-Righa, Digital Manager, Kimberly Clark in charge of West, East and Central Africa.
"Through the She Can Award, we aim to challenge common thinking that limits women's progress. We are inspired to provide platforms for women to dream and achieve their full potential," said Mr. Crispin Achola, General Manager at Kimberly Clark for West, East and Central Africa.
The highlight of the event was the unveiling of the 'New Kotex Ultra Thin Extra-Long Pad.' "This exemplifies Kotex innovation in developing high quality cotton-soft, fast-absorbent pads to make her period experience discreet and unnoticeable. The Kotex product range comprising sanitary towels, tampons and panty liners remains unchanged and is available in retail outlets countrywide," concluded Christopher Waithaka Senior Brand Manager, Feminine Care Category – West, East & Central Africa.