Siaya County has attained the minimum requirement by the World Health Organization (WHO) of approximately 5km to a health facility from residence, hitherto bringing closer Universal Health Care to the members of public.
According to Siaya County CEC Health, Dismas Wakla, this has played significant role in improving the health services to the residents who may be living in remote parts of the county."For the past nine years of devolution, we have invested heavily in building the facilities in areas where there were none and improving the status of the existing ones. This is very important in making Universal Health Care a reality," said Mr Wakla who spoke at Nyathengo Health centre during the handing over of the renovated facility back to the county government by the World Vision.
He added, "Other than that we have invested on the human resource too because without the personnel the health infrastructure will be serving no purpose, in our budget the health care takes a lion's share because we understand the importance."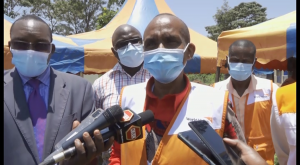 Wakla said International Non Governmental Organizations such as the World Vision who have partnered with the county governments have also played major roles in improving the health care services.
Addressing the occasion, World Vision's regional manager, Joseph Tankoi said the NGO has programmes that compliments the government's, adding "as World Vision we work towards the well-being of children, we bring equipment as well as improve the facilities in order to reach the people."Siaya governor, Cornell Rasanga who was the chief guest during the occasion said that the health officials need to up their game in making Universal Health Care a reality."It is therefore my legitimate expectation that there should be improved outcomes in key service delivery areas that are main targets main ones being maternal services that has performing rather poorly," said governor Rasanga.He also noted that the community health volunteers and the health department have worked in coordination to ensure that the maternal mortality rate is suppressed.