It was a great joy as a woman who was arrested and detained at Thika Women's Prison for unlawful waste dumping was released and reunited with her family.
It however took the intervention of the Kiambu Governor James Nyoro and his deputy in collaboration with various well-wishers who saw her freedom actualized.
Monica Nyambura, the woman in question, says her time spent in prison was riddled with anxiety moreso towards her son who has a leg ailment and requires utmost attention.
Nyambura adds that she's thankful to the Kiambu county government and the well wishers who aided in her release and has learnt a valuable lesson in obeying state laws.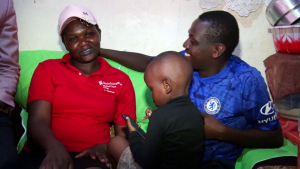 Boniface Mburu, Nyambura's husband, says the burden that was weighing heavy on his shoulders is finally lifted and he can now breathe easy because the household and baby chores that had been left entirely to him were going to be a thing of past.
Mburu is however requesting the government to set up counselling centres targeting men who have been made to take on the role of single parenthood and children who have to cope with not having both parents around.
Cyrus Gachiki, a friend to the family, is also calling on the government and the judiciary to monitor anyone seeking to represent clients in court adding that there have been instances where unsuspecting victims have been defrauded.
He goes on to add that Boniface Mburu was swindled off a sum to the tune of Ksh.41,000, which was sent by a well wisher to help in his wife's release, by a man in the guise of a lawyer.