Women in Nyandarua County on Monday held a peaceful demonstration in Ol Kalou town against the increase of bars and alcoholism in the area. This comes after a local bar owners association moved to court to block rules and regulations that were enacted by the county government early in the year that meant to manage, control, and regulate liquor licensing in the county. Five cases are currently pending in courts where the county government has been sued by the association.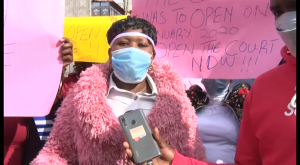 However, the women said that the association should stop dragging the county government and courts but should allow it to implement the regulations. The women group said that local administrators of frustrating the county government in implementing the regulations. The women asked government administrators to launch a crackdown on drugs and illicit brews. Speaking during the peaceful protest, the women from the area expressed their anger at losing their husbands and sons to alcoholism.
They further accused police officers from the area of taking bribes from the bar owners making it hard to police them and shut them down when the need arises. The enraged women also accused their drunkard husbands of being unable to sire children, adding that many of them have since fled their homes. They said that others have sold most of their property to fetch money for alcohol.