Ruiru residents can now heave a sigh of relief after the Kiambu County Government completed the expansion of Ruiru level Four hospital.
The sh 65 million facility that has been named after President Uhuru Kenyatta will bring an end to the suffering of residents who have for years been forced to seek medical services in other places including Thika, Gatundu and Kiambu.
The new facility that has increased bed capacity from the previous 46 to 200 is expected to serve over 500,000 residents in the populous sub-county according to Governor James Nyoro who officially opened the hospital on Tuesday.
The Governor who was accompanied by Ruiru MP Simon King'ara, a host of ward reps and other county officials noted that the facility will be fitted with modern equipment including a well equipped Intensive Care Unit (ICU) and a theater to render efficient services to Ruiru residents.
"The new wing incorporates a casualty unit, expanded pharmacy, laboratory as well as an imaging unit. The old wing has for years been overstretched and couldn't effectively serve the high population in Ruiru. However things are better now and residents can enjoy quality services from our new unit," Nyoro said.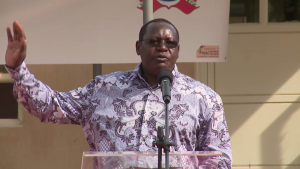 Nyoro said that the County Government has already deployed more health workers to the facility increasing the number of health care givers from the previous 11 to 200.
Nyoro said all the four cadres of doctors have been posted at the facility,  expecting over 20 intern doctors to give services He add also collaborate with learning institutions will make the facility a training center,
The County Health Chief Officer Dr Patrick Nyaga said that the new theatre facility will scale up operations to over 400 in a month noting that it will save residents the agony of taking their sick to far-flung hospitals.
"This hospital before was like a health center or a dispensary but it has received huge transformation. It is now a level four hospital with a casualty wing and accidents victims will now be attended here unlike before where they were being rushed to Thika, Kiambu or Gatundu," Nyaga said.
At the same time, Governor Nyoro divulged that there are plans to expand the facility further to a level five or six hospital a project that will be undertaken through a public-private partnership with industrialists from Ruiru sub-county at a cost of sh 800 million.
"I am a strong believer of public-private partnerships. I will engage the private sector and especially industrialists from Ruiru and chart the forward regarding upgrading this facility further. I believe when we come together we will be able to accomplish the project in a year," Nyoro said.
The Governor also Nyoro divulged that other new health facilities are on the verge of completion.
He noted that the 200-bed Wangige level four hospital will open its doors to the public in two weeks time noting that it has already been equipped with state-of-art equipments.
"Lari level hospital will be ready by March while Githunguri and Bibirioni level four hospitals will be complete by June and September respectively. Also a level three facility is being put up  in Juja sub-county and will be ready by June this year. The hospitals will be fitted with modern equipments to offer quality health services to residents," Nyoro said.
Ruiru MP Simon King'ara lauded the Kiambu County Government for expanding the facility saying that it will render vital services to residents of the highly populated constituency.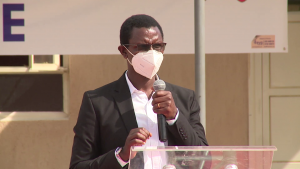 He also disclosed that he has initiated the process of securing the hospital a title deed for its land so as to ward off grabbers who have been drooling over the land.
"The hospital land was once grabbed but we managed to get it back from the unscrupulous criminals. I am pursuing the matter to have the hospital as well as other public places get title deeds. The land meant for expansion if not will protected will be grabbed," King'ara said.
Locals too welcomed the project terming it a shot in the arm for most of them who were forced to seek services in other facilities.
"Our prayers have been answered and our suffering has come to an end. We have been seeking medical services in hospitals that are very far or in private hospitals which are way too costly. We are grateful for this noble project," said resident Cecilia Waithira.