Kirinyaga council of elders have insisted on scrutinizing leaders vying for various elective posts in order to get rid of corrupt and irresponsible leaders.
The elders led by their chairperson Harrison Ndambiri said their involvement in the blessing of the leaders include their swearwords to observe peace during their campaigns.
He said the elders would denounce those who will not go for their blessings and will discourage the people from voting for them.
The elders were speaking yesterday during a blessing ceremony to a career banker Peter Kathanga to vie for the Kirinyaga Senatorial seat.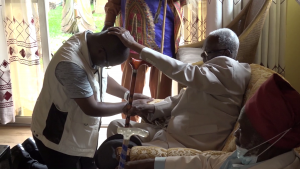 Upon being blessed by his aging father and former area MP Bernard Kathanga, the young Kathanga was handed over to the Area Council of Elders who also blessed him using the prescribed ritual.
The ritual was conducted by Senior Elder Erasto Njeru at the contender's Kiamiciri home within Kabare Ward.
Also to bless him were local Maendeleo ya Wanawake Organisation members led by their chairperson Dayana Gicaiyia .
Kathanga who sat alongside his wife at the far end of the high table watched cheerfully as his son got the attention and blessings to seek to lead the county in the new capacity.
During the brief ceremony, the youthful Kathanga said he had a proven record of accomplishment from the leading financial institutions in the country where he had served at the managerial levels.
Some of the said institutions were the Cooperative Bank of Kenya, the Cooperative Insurance Company (CIC), the KPCU, and the Commercial Bank of Kenya.
Kathanga on his part said having worked and extensively traveled far and wide had what it takes to lead as a Senator.