Four people among which two children and a secondary school student have died as a result of a cholera outbreak in Mandera County.
According to Dr. Mohamud Eda the County Executive Committee member (CEC) for health in Mandera County, since  January 15th over 622 cases have been reported with the admission rate standing at 32 patients per day. Dr. Mohamud also noted that the number of cases detected per day have reduced from 54 to 16, adding that there's still need for vigilance in fighting the outbreak.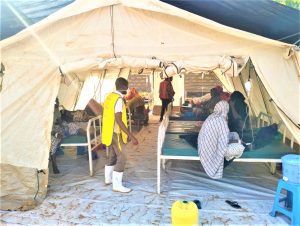 As per Dr. Eda contact-tracing has already started in all the areas where the cases were detected as well as hygiene education and treatment of water sources. Inspection of all eateries and places prone to the disease is in progress to provide a higher level of cleanliness.
While offering his support, the Neboi Member of County Assembly Mr Adan Mohammed Ali said that he will put in place hygiene equipments in all the areas that are at risk. The residents of Mandera have also been urged to follow the stipulated anti-cholera guidelines and regulations so as to eradicate the disease in the county.
The outbreak has so far affected Mandera East, Mandera West, and Mandera South.