The Nakuru county government has now ruled out reintroducing a fishing ban in Lake Naivasha despite a sharp drop in fish catch in the last couple of months.
Instead, the county will embark on massive restocking of the troubled water body whose catch has been affected by illegal fishing.
According to Nakuru Governor Lee Kinyanjui, the lake was critical to the economy of Naivasha as it supported hundreds directly and indirectly.
He said that the county would in the coming week enforce recommendations of a task force that was formed last year to address the challenges of the lake.
"We have already introduced enforc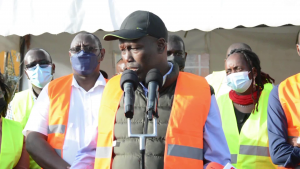 ement measures in the lake and we shall not reintroduce fish ban but embark on restocking," he said.
He at the same time said that the county had started the process of upgrading Molo and Gilgil towns into municipalities.
"Nakuru has been elevated into a City and this gives room for other small towns like Molo and Gilgil to rise to municipality level which is a major gain to area residents," he said.
Kinyajui was speaking in Naivasha when he met area leaders and later officiated the ground breaking of a Sh68m municipal park.
He said that the park which had been targeted by land grabbers would be rehabilitated to be one of the modern and environmentally friendly parks in the county.
"For years unscrupulous traders have targeted public land in the county but my administration has moved in to reclaim them and handed them back to the public," he said.
During the meetings, Kinyanjui called for a review of Naivasha constituency boundaries next year while announcing his intention to defend his seat on Ubuntu Peoples Forum (UPF).
On Mai Mahiu, he said that the town was now one of the fastest growing industrial-centers in the country thanks to the industrial park and the recently opened Inland Container Depot.
"The transportation of cargo from Mombasa to Mai Mahiu through SGR and later to Malaba through the meter-gauge railway has already transformed this town," he said.
On his part, Viwandani MCA Eric Gichuki praised the move to rehabilitate the municipal park under the World Bank (WB) rehabilitation programme.
"This park was home to tens of street families and also a parking lot for lorry drivers and we should seek ways of resettling them," he said.
His Lake view counterpart Simon Wanyoike Wanango praised the ongoing road rehabilitation in Naivasha town and its suburbs.
"The county has done a lot in terms of road works but we need more kilometers as Naivasha is now a hub of business and tourism," he said.