The kids from the home are those that have been sexually abused while others have been impregnated by people close to them and later on sent away from their homes. The DCI team was led by Rhoda Kanyi the Machakos DCIO who said that they have been celebrating every xmas with the kids for the last 3 years and usually feel obliged to be part of the kids as they usually handle their cases from incest to defilement among others and usually put the kids at Mwiso Children's home which also acts as a rescue center for them.
Rhoda also added that some of the girls are usually sent away from their homes after getting pregnant at tender ages and have no where to call home with some having given birth at the children's home thus both the young mother and child are now under the children's home. She added that after they rescue together with the children's home they later look for a school for them so that they can finish their education. Some girls who have since given birth in the same children's home have their kids ready to go for baby class as they are growing together. Rhoda also called on leaders to come in handy and help such kids achieve their dreams in life.
Rhoda took time to warn men who think of defiling kids in this festive season to be careful as such habits wont be tolerated and the culprits will be arrested.
Annastacia Nduku Nzioka the Director of Mwiso children's home and Rescue Centre could not hide her happiness saying that most of the kids who have been brought there are usually been neglected by their families and it was a good sight seeing the DCI officers always remembering them. She added that most of the kids usually face hard times more so those pregnant while young and at a tender age and being sent away from their homes leaves them confused. She also said that the DCI officers have been walking with them where necessary by assisting in the police station  ,to hospitals and then courts for kids that have been defiled or raped and more so impregnated and also been rejected by their families.She added that the dci officers come in handy when it comes to filing of police cases that are headed to courts
Currently the rescue Centre and children's home has 27 kids as most of them come and go  now that its a rescue Centre. She added that the biggest challenge comes when she has to bring up a mother and her kid and yet both of them are children.Annastacia retired after working with some missionaries in Kajiado county where she served as a children officer and came home and started the children's home.
Emily Kimanzi the Assistant Childrens officer in Machakos county said that most kids in the home have been rescued by her office with some having defilement and incest matters from people close to them adding that such cases are on the rise in Machakos county.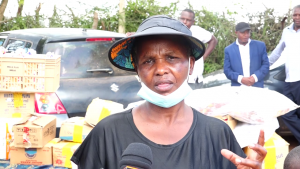 Kimanzi said that there seems to be a problem in Machakos as many defilement cases are been hidden with some being finished in Kangaroo courts.Kimanzi called on members of the community to be on the watch and report such heinous acts for proper action to be taken.
Mwiso childrens home and rescue centre is in Kyawango Location in Mwala subcounty Machakos county