Tens of grannies who entertained the late President Jomo Kenyatta at their prime age are crying foul after a parcel of land that they bought using their savings was taken over by unscrupulous traders in Mai Mahiu.
Though the majority of the women popularly known as 'Nyakinyua' have passed on, their grandchildren have petitioned the Ministry of Land and the National Land Commission (NLC) to intervene over the over 15,000 acres. Under the Kiambu-Nyakinyua farmers company limited, the women claim that over 80 percent of the land has been sold for use around the multi-billion Industrial Park. The land buying company was formed in the early 70s by 1,403 women and to date they are yet to receive title deeds despite a court order establishing that they are the bona fide members.
According to Lydia Njung'e, whose mother was a member of the land buying company, the cartel had taken advantage of the SGR and the industrial park to sell the land to investors. Speaking during a peaceful demonstration, she noted that the cartel that was claiming to be directors of the company had gone ahead to dispose of the land, locking out the real members.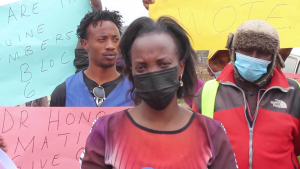 "This company was started by our parents, many of whom have died and some few individuals who claim to be the directors have sold over 80 percent of the land," she said. While calling on the Ministry of lands to intervene, Njung'e said that they had share certificates but the new buyers had been issued by title deeds in unclear circumstances.
"None of the original members have received a title as the so-called directors are demanding Sh435,000 as fees to process the documents and we cannot afford this," she said. This was echoed by Samuel Mbatia who noted that a huge chunk of the land had been taken over by SGR and the ongoing expansion of the industrial park. "All the directors of this company were women but the ones in office now are men who are sub-dividing parts of the land and selling it on a daily basis," he said.
Another farmer Patrick Kamau told of their pain as they continued to live in rented houses and bury their parents in cemeteries despite using all their savings to buy the land. He warned of looming bloody clashes in the volatile area if the issue of double allocation and irregular sale of the land was not urgently addressed. "We have waited for over 50 years to get our parents land only to learn that some directors are openly selling it to investors as the real members suffer," he said.
Mai Mahiu senior Chief Zacharia Igeria who was present admitted that the farm had a troubled history that was yet to be fully resolved. "Members of this group have been in and out of courts for many years and we cannot interfere with the courts process," he said.