Four watchmen who were recently hacked to death at Siranga trading center in Ugenya were today laid to rest as local leaders accused the security personnel  of doing very little to bring to book the killers. Led by Ugenya Member of Parliament, David Ochieng, the leaders, among them politicians Dr. Daniel Odhiambo and lawyer Rodgers Sagana lamented that close to two weeks since the incident, no suspect has been brought to book. Speaking during a funeral service for the four at Siranga primary school grounds, the leaders urged the government to critically look at the local security personnel  in order to identify those who could be conniving with criminals to terrorize and kill innocent people. They said that insecurity in the area was a great concern to the residents, adding that in the past few weeks, criminals have had a field day in Ukwala ward, breaking into shops and on one occasion, raided the home of Yenga assistant chief's home, r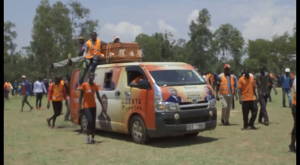 azed it to the ground and killed his livestock.
Ugenya legislator, David Ochieng said as leaders, they were ashamed that little could be done to save the lives of the watchmen. He called on the government not to spare anyone who could have been behind the massacre of the locals. The legislator told the locals to help the police with information that could help in nabbing the suspects, adding that it has been established that some of the suspects left behind their phones. Ugenya politician, Daniel Odhiambo called on the sub county security committee to ensure that the officers were committed to protecting the lives and property of the locals. Odhiambo called on the interior ministry to deploy enough personnel and provide them with transport and tools adding that as leaders, they were ready to engage the ministry headquarters on the same. Ugenya assistant county commissioner Mr. Rufus Kihara who represented the government assured the locals that investigations were at an advanced stage, adding that soon, the security apparatus will make some break through. The watchmen who were laid to rest today were George Agara Opuch (68 years), Patrick Oduor Ondoo (59 years), Thadeus Ochieng Radido (43 years) and Benard Odhiambo Opundo (49 years.