Tension is high in Kianjokoma trading centre, Embu North Sub County after furious local residents set fire to a police vehicle during a protest against the deaths of two students. The residents staged a protest following the mysterious deaths of two university students in the hands of police. The residents barricaded the roads towards the Manyatta police station before pelting the station with stones causing damage as they demanded an answer as to who killed Benson Njiru, 22 and Emanuel Mutura 19. The locals are accusing police for causing the death of Benson Njiru 22,and Emmanuel Mutura 19 on Sunday after they were arrested past curfew hours by police who were doing patrol. Later their bodies would be found in Embu level 5 hospital mortuary.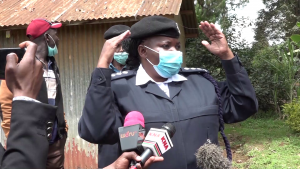 The angry residents said they will not relent until Justice prevails for the family.
National Vice Chairperson ,Party for Peace and Democracy Wambugu Gakinya called for speedy investigations on the mysterious death of two brothers. "We will protest until Justice is achieved for this family ," said Gakinya. He also challenged IPOA to ensure that the police officers who were on patrol and those involved in the death of the two young souls are brought to book. Diana Mukami , cousin to the deceased, said it is unfortunate for the family to lose such young souls. She said the deaths of the two boys have snatched the family's very promising brothers which is a big loss to the family and society at large. "What we need is justice for our young boys ,it's very unfortunate that we have lost them,"she said. John Muchagi argued for the interior Cabinet to move with speed and addressed the challenges of security. Lucy Kamwara, the Officer Commanding Station Kithagari Police Post said the insecurity in the area has been orchestrated by lack of enough resources to beef up security. However she said police are pursuing the matter over the death of two brothers to know what really happened. Following the protests and the burning of a police vehicle the anti-riot police officers have been deployed to contain the situation.