A Malindi high court was on Monday told how security officials abducted Yasir Mahmoud Ahmed a Lamu county government ambulance driver at Mkunubi area along the Mpeketoni Lamu road on June 19. Yumna Ali Salim the abducted ambulance driver's wife told Malindi high court judge Reuben Nyakundi that on the material day they were driving in their car towards Lamu when a Land cruiser blocked the road and three men wearing masks and security outfits ordered everyone inside to get out.
Salim who is the key witness in the petition filed by Muslims for Human Rights seeking a seek 'habeas corpus' order to demand Inspector General of Police, Hillary Mutyambai produce the ambulance driver whether 'dead or alive' said the officers wearing masks and military-like uniform asked for the driver's license which she produced. In her testimony, she said they were four occupants in the vehicle including her son and a passenger and the masked men ordered them to walk back without looking behind as they dragged her husband.
"We later turned to look back after walking for some distance only to find that the three-armed men with the GK land the cruiser had disappeared with my husband leaving our car in the middle of the road," she said. She said her son moved the car, parked it by the roadside and then they boarded a public service vehicle to complete their journey to Lamu. "Since then, I have not heard from my husband, his phone has been switched off and his whereabouts remain unknown," she said.
Her family and relatives reported the case at Lamu Police Station under OB NO 31/19/06/2021and Mpeketoni Police Station under OB NO 16/20/06/2021 but they are still unable to locate him. MUHURI Rapid response officer Francis Auma who also testified said he was informed by the family about the case on a weekend and went to the regional Anti-terrorism police unit to inquire about the missing ambulance driver if he was in their custody.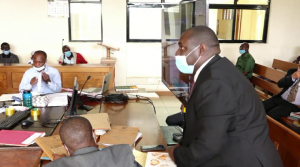 He said upon inquiry, the ATPU authorities said they were not aware o9f any abduction forcing them together with the family to move to court to ask for 'habeas corpus' order. This is after efforts to look at him in all police stations, morgues and hospitals proved futile. The police however denied having abducted the ambulance driver saying they sent a signal to all police stations in Kenya and never traced him.
Lamu West Sub County Criminal Investigation officer (DCI) David Nyaramba who testified before the case said they received a report that a Suzuki vehicle which has both green and white color from Mpeketoni headed to Hindi direction was stopped at Koreni about 15 kilometers to the east of the station by unknown persons who were armed with guns and were in military regalia. "They had parked a green Toyota Land cruiser in the nearby bush and the said Yassir Mahmood was picked and bundled in the said Land cruiser which was later driven towards Hindi direction leaving behind the three occupants who were in Yassir's vehicle," he said.
The SCCIO said the three occupants were Abdul Aziz Yassir aged 15 years a, Salim the driver's wife, and one Mohamed. Nyaramba said he did not participate in the alleged arrest or witness any arrest of the ambulance driver on June 19 as alleged by the petitioners adding that Mpeketoni police station does not have a green Land cruiser in its fleet of vehicles. Further he the SCCIO said he was not aware of any active investigations of the said abducted person which could warrant his arrest by police.
"Following the report made by the applicant on June 20 by the efforts were made to trace the said Yassir Mahmoud Ahmed in all police stations within the country but was not found to be in any police station," said the affidavit in part. Nyaramba said he also sought from Safaricom limited all incoming and outgoing calls data from the victim's phone number to assist further in investigations. He said the route where the alleged abduction took place is notorious for terrorist's attacks with many civilians and police officers attacked and abducted since 2013.
"At the time of the alleged abduction, there was no vehicle from Mpeketoni police station that had been authorized to go on the said route nor was there any operation conducted by us in the environs," he said adding that to date the Mahmoud has not been traced neither was he being detained in any police station. So far, he said the DCI have opened an inquiry number 5 of 2021 which is pending under investigation. The Judge said the matter was heard and the court would seek to establish what exactly happened and September 17.