The dawn of a new day came for the people of Sirisia constituency when Moses Nandalwe Foundation received certification in the early morning of Wednesday 24th January 2018.
Moses Nandalwe a former student leader and 2017 ODM parliamentary aspirant in Sirisia constituency known for his philanthropy to his people had taken the better part of transforming this into a communal benevolent Foundation with a key focus to development.
Kicking off its operations early January, close to 80 needy and bright students at all levels of learning have benefited from the foundation's bursary kitty. The foundation has also kick started a water project, digging bore holes and improving water points across the constituency to levels of ' human dignity' a word fondly used by foundation CEO, Financier and Founder, Hon Moses Nandalwe. The foundation has also helped clear hospital bills for patients across the constituency as well as help needy families bury their loved ones through sponsoring Food, Clothing the dead, offering transport services, hiring tents, buying modern Caskets etc.
Its by the good work that NGO Coordination board and CEO, Mr. Fazul Muhammed found it fit to have the NGO registered, in his address to the Foundation secretariat, Fazul promised to be supportive to the NGO and even go down to Sirisia to witness the good work.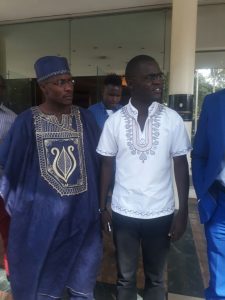 Foundation CEO said in his word to the press said
"The foundation is a non political outfit and everyone interested in chatting the development part of the people of Sirisia is welcome' he added that it is entirely in his passion to see the lives of the people transformed.
Snaking out of the city in a convoy of 5 sleek looking Mercedez Benz,  after the certification, the young politician who has a love for Nigerian attire was accompanied by, Mark Masasabi, the foundation chair, Advice Mundalo, the foundation communications Director, Katila Maureen, the Projects coordinator among other officials and members.