Orange Democratic Movement party,Kisii county  officials have decried dismal on-going voter registration in the area and moved to reverse the trend.
Speaking at Agricultural Traning center,the officials  launched an all-out strategy involving  eligible voters mobilization through caravans  in the county's 11 sub counties  register.
The officials  who included governor James Ongwae,Senator Prof. Sam Ongeri,Women rep. Janet Ong'era and several MCAs stressed on intensification of   the  exercise  to  boost the area's numerical strength in the ballot.
Ongwae challenged party officials  to aim at improving the registration figures from the current 6,000 against the expected over 20,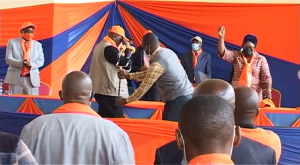 000 new voters within a month.
The programme  will be voluntarily  funded adequately to meet the set objectives,he added.
Senator ongeri encouraged the county residents to get right the  demographic statistics come next year's general elections.
Reminding them that allocation of public resources by parliament  was based on statistics  as expressed through the ballot,the senator said they should not fail to take the  advantage presented.
Ongeri predicted the enhanced  number of votes will enable  the county bargain for increased  economic opportunities  and political seats at the national level.
The women rep urged  local government administration to give chance to thousands of youths applying for  national identity cards for voter registration.
Ong'era remarked it would be embarrassing to miss electing their chosen presidential candidate owing to lack of enough votes.