Poor state of speed governors fitted to most of the public service vehicles on the road are to blame for increased road fatalities in the country, Roads Safety Association of Kenya has now revealed.
The association chairman David Njoroge Kiarie said that most of the public service vehicles operating on major highways across the country have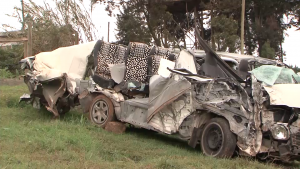 faulty or invalid speed governors.
Kiarie accused the drivers who caused accidents in eldoret and Narok while regretting that 40 percent of all road related deaths in the country are caused by over speeding, Kiarie called on the speed governors' vendors to recall all their vehicles and fit the right devices to save lives.
At the same time, the road safety chief regretted the rise in road fatalities in the year 2021 and called on all stakeholders to tighten their belt in helping contain the situation before it gets out of hand especially as Kenyans are taking children back to school.