The Manchester United squad surprised young patients at three local hospitals on Monday as they delivered festive gifts in the lead up to Christmas.
Reds captain Michael Carrick, alongside defenders Chris Smalling and Phil Jones, spent time with youngsters at Francis House Children's Hospice in Didsbury, which provides a home away from home for families where they can receive professional care, support and friendship.
Down the road at The Christie's Palatine Treatment Centre, home to the teenage and young adult unit and haematology and transplant inpatient unit, Romelu Lukaku, Matteo Darmian and Daley Blind met those going through a difficult time during the festive period.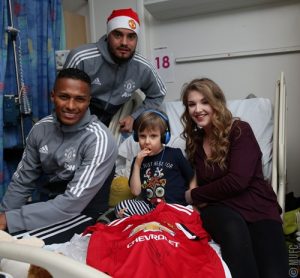 The remainder of the first-team squad headed to the Royal Manchester Children's Hospital which is the largest single-site children's hospital in the UK and provides specialist healthcare services for children and young people throughout the North West. The players gave out a number of United-themed presents, including home shirts which were personally signed, much to the delight of those forced to spend Christmas away from loved ones.
Speaking at the Royal Manchester Children's Hospital, Zlatan Ibrahimovic said: "It's a great cause, we see children who may not be in the best condition but we can come and bring them a little happiness and positive vibes."
At Francis House, Josh was delighted to meet his footballing heroes and commented: "Today was really good fun and it was nice to see the guys in person and have a good chat."
Romelu Lukaku, who was experiencing his first hospital visits event with the club, added: "I think it's important to give the patients a boost when they are down. If we can bring them some positive energy and a bit of help as well it's good for them and can help them keep going with their treatments."
Fifteen-year-old Grace, a patient on the Tertiary Medical at Royal Manchester, was grateful for the special Christmas surprise, saying: "Today means the world, it's brilliant, I've been in a lot of pain recently with my illness and to meet my favourite players is just amazing."