Garissa Senator Abdul Haji has offered his support to the political parties bill currently in the Senate saying it is a rescue to smaller parties oftenly misused by the bigger ones.
Abdul said the bill seeks to legalize agreements between political parties before forming coalitions something that has been abused signing of such agreements.
He added that marginalized communities with parties will benefit from the political parties fund to grow their parties.
Speaking in Masalani after being endorsed by his Samawathal clan,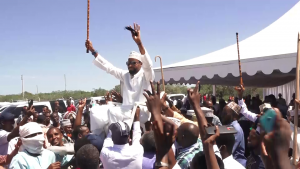 Abdul urged residents to align themselves with the Upya Movement in order to reap big politically.
He called for peaceful campaigns ahead of August general elections.