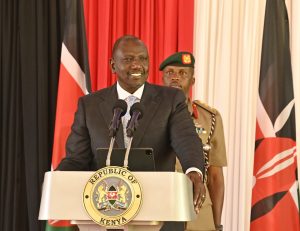 In the wake of providing affordable housing for the country, President William Ruto has today launched a 10 billion affordable housing project in Shauri Moyo Nairobi.
In November last year, the head of state announced that 3,000 acres of Nairobi public land will be used for the affordable housing project. He said that his administration will at least do between 400,000 and 500,000 housing units to support the people of Nairobi.
The launch of the Shauri Moyo project was the third that president Ruto has commissioned, others including the Mukuru Met site and Kibera in Soweto B. The head of state has also launched the affordable housing project in Mavoko Machakos County. While launching the project, Ruto also said that he will continue to serve all Kenyans despite who they voted for and that he remains the sole president of Kenya.
The 10 billion project seeks to provide more than 3,000 housing units in support of the government's agenda on provision of affordable housing for Kenyans. The ground breaking comes just after the President's return from a three-day tour in France and Senegal.