Kenyatta University Television station,KUTV, prides itself as the fastest growing of this era.
Today , KUTV was holding an Annual General Meeting to look back at how far the station has come and evidently there was a lot to celebrate.
A year after grabbing the award Teeniz Digital Station of the year in the Teeniz Extreme  awards, KUTV has continued to grow in leaps and bounds.
Since taking office in February this year as the acting Director, Dr. George Kinga'ra is convinced that  the TV is headed in the right direction.
ALSO READ:KUTV grabs Digital Teeniz award of the year
Dr. King'ara, The Chairman of the Department of Communication and Media Studies, expressed his gratitude to his KUTV team for their cooperation and drive to make KUTV even better.
In the AGM, KUTV staff who went out of their way to do all it takes were awarded for their good work.
3. George Okachi
George Okachi received the award of  the second Runners Up KUTV's Best Employee of The Year. Mr. Okachi is the Head of KUTV's Newsroom and he has been instrumental in ensuring the TV delivers up-to-date and informative news.
In the above photo, the TV production and Acquisition Manager Irene Simiyu presents the award to Mr. George Okachi.
2. Irene Mwangi
Irene Mwangi was the first Runners Up KUTV's Best Employee of The Year.
Ms. Mwangi showed great prowess during the live coverage of the August 8th General Elections.
She is also known for her fearful nature of going where a cautious person would otherwise fear like inthe middle of demonstrations with tear gas renting the air.
KUTV's management thought such bravery is worthy the appreciation.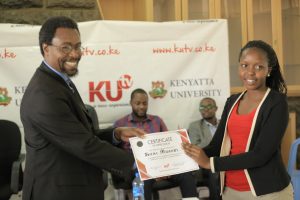 The Director, Dr. George King'ara, presents the award to Ms. Mwangi.
2. Joel Mulwa
Joel Mulwa is KUTV's Best Employee Of The Year 2017.
Mr. Mulwa is hailed for his gifts and skills when it comes to live coverage and streaming.
He is he founding rock upon which live coverage of the August Polls, Kenyatta University's Graduation in August and the Inauguration of President Uhuru were based.
To all the award winning employees, our congratulations are in order, continue making KUTV great.